Ranges CPO EP
Bottle filling unit in 20' ISO container – Turn-key
Ranges CPO EP - In pictures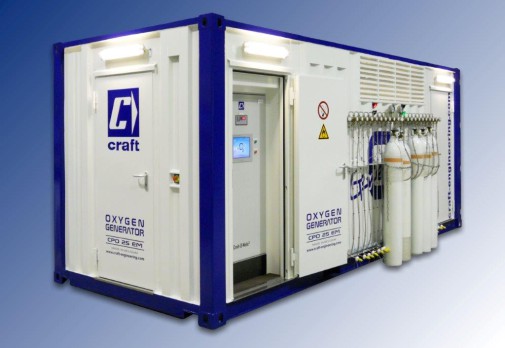 Oxygen production unit
The particularity of Craft® is to integrate, right from the start, the oxygen production plant in a maritime container. Our machines are integrated into a container which serves as a technical room, with two access doors and a control panel. Having interior and exterior lighting, the container becomes an integral part of the production unit.
It naturally protets against intrusions of dust, rain or thefts. The CPO plant installed, can function therefore, with the doors closed. Cooling is done by ventilation, which eliminates the costs and the problems due to air conditioning and whatever the exterior temperature and humidity
Even though modified, it appears like a classic container, which allows it to be easily transported. By mounting on a classic trailer, the unit can travel quite simply, while ensuring the security of the apparatus.
Content
Air compressor
Screw compressor, lubricated, single-stage of type GA-Workplace equipped with a water separator and air-cooled. It has integrated oil and air cooling, in aluminium A microprocessor integrates the functions of regulation, control and safety.
Air treatment
A filter eliminates impurities down to 0.01 micron, with a maximum residual oil content of 0.001 ppm. The air is then stored in a buffer tank.
Dryer – DRYTEC®
VT type dryer with heat exchanger. The dewpoint is 2°C.
Oxygen generator
Generator of type PSA with molecular sieve, it is entirely made of stainless steel. All the auxiliary equipment in contact with oxygen (tanks, valves, pipework, etc.) are also in stainless steel. The regulation by an automatic control system with pneumatic commands allows millions of cycles to be performed. At the outlet of the generator, the dewpoint can go down to -75°C.
Controls
The digital control table, regulates the order of the electric power phases, forbidding start-up in case on the reversing of phases. It also monitors the regulation of the compressors and the generator. In addition, the table allows the air and oxygen pressure to be viewed and the dewpoint of the air to be displayed. It comprises a system for the measurement of oxygen quality and indicates potential system malfunctions.
Filling station
High pressure cylinder filling station distributed into 2 sections, each comprising 5 to 10 filling couplings with high pressure cut-off valve, bottle cut-off valve and quick-connect stainless steel/Teflon filling coils.
Technical specifications
CPO 3
CPO 6
CPO 12
CPO 18
CPO 25
*1Nm3 = 1 m3 at 15°C at sea level
Capacity*
2.7 Nm3/heure
6 Nm3/hour
12 Nm3/hour
18 Nm3/hour
25 Nm3/heure
Outlet pressure (bar)
=> 200
=> 200
=> 200
=> 200
=> 200
Power required
12 kW
26 kW
45 kW
63 kW
78 kW
Gross weight
3.500 kg
7.600 kg
8.150 kg
8.825 kg
10.500 kg
Dimensions (m)
3,1 x 2,25 x 2,6
6,2 x 2,28 x 2,6
6,2 x 2,28 x 2,6
6,2 x 2,28 x 2,6
6,2 x 2,28 x 2,6
Filling station (number of bottles)
1 x 4
2 x 5
2 x 10
2 x 10
2 x 10
Purity of gas O2
94% +/- 2%
94% +/- 2%
94% +/- 2%
94% +/- 2%
94% +/- 2%